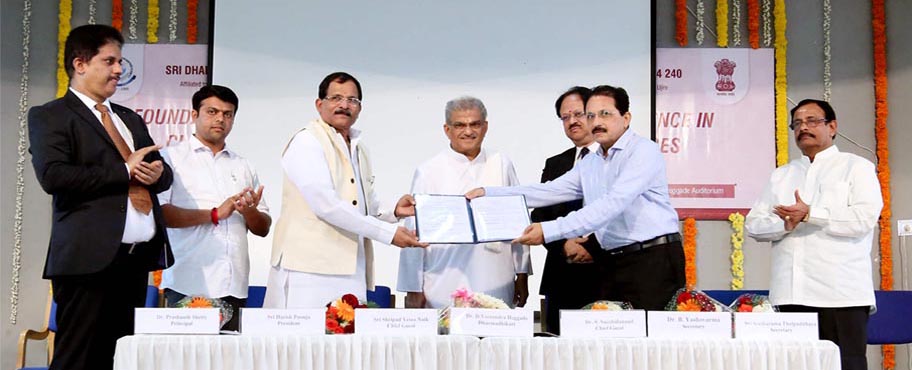 SDMCNYS, being India's very first institute of its kind, has sustained the quality of education and healthcare services since its inception. Inevitably, the institute flaunts a list of recognitions and achievements, of which the following are noteworthy.
Sitaram Jindal Foundation awarded "Jindal Excellence Award" to our President for establishing model College and Hospital for Naturopathy and Yoga in the country.
The State Govt. of Karnataka awarded "Karnataka Rajyostava Award 2011" for its extensive services in the field of Naturopathy and Yoga.
Govt. of Karnataka, Department of Medical Education awarded "B.C. Roy award" to the Principal on Doctor's Day.
Our college has achieved "Rajiv Gandhi University of Health Sciences over all championships for the sports and games" for three consecutive years.
In the direction, our college organized "State and National Level conferences at Dharmasthala and Ujire in 2002, 2005, 2019" and "International conference on Yoga and Naturopathy in 2012 at Bangalore, and at Dharmasthala in 2014" and also organized a "National level yoga festival at Dharmasthala in 2017".
Government recognitions for SDMCNYS
The esteemed Ministry of AYUSH, Govt. of India has listed our college project for grant of "Centre of Excellence".
Ministry of AYUSH, Govt. of India by realizing the growing consumer acceptance of AYUSH in the domestic and global society as an important component of pleuritic schemes of health care the Govt. of India has decided to identify reputed institutions engaged in AYUSH Education/Drug development & Research/Clinical Research etc. in the Government/Non-Government/Non Profit and to support them to upgrade their functions and facilities to levels of excellence.
The centers of Excellence may be granted to the institutions/ organizations engaged in one or more of the following activities:
Clinical research
AYUSH Hospital
Research based on the Fundamentals of AYUSH
Inter – Disciplinary research in pharmacology, Pharmacy or product development bridging AYUSH and modern medicine
Tertiary care allopathic hospitals having track record of 5 years in AYUSH research
Any other specialized area of AYUSH
Ministry of AYUSH, Govt. of India has recognized our institution for center for excellence first time in naturopathy and yogic sciences, they have impressed by our creative and innovation proposals for the establishment and upgradation of both functions and facilities of reputed institutions to levels of excellence to promote international collaboration in clinical research. It's a rare opportunity for us establish and for the upgradation of functions implies adding new long term functions and making significant qualitative improvements in the existing function including support for humans resources infrastructure and equipment that will result in a qualitative improvement in the Naturopathy and Yogic Sciences and the institution.
Participation in Government Sponsored Projects
Government Yoga & Nature Cure Center (PPP Model):

In collaboration with the Government of Karnataka and Government of India the institute has opened 10 outpatient units (OPD) in the existing Taluka Government Hospitals of 10 Districts of Karnataka to cater Naturopathy and Yoga treatments to the low socioeconomic strata of the society.

AYUSH Grama Programme:

In collaboration with Dept. of AYUSH Government of Karnataka, the institute designed the project to provide complete health at the door steps through AYUSH health care system at Kalathur village, Udupi District.
Government Recognition and authentication
Central registration facility under CCRYN, Ministry of AYUSH Govt. of India and in other States registration under department of AYUSH available for successful graduates for practicing Naturopathy & Yoga.
Government institutions related to Naturopathy and Yoga
'AYUSH' – Ministry of Health and Family Welfare, Government of India
Central Council for Research in Yoga & Naturopathy (CCRYN), New Delhi
National Institute of Naturopathy (NIN), Pune
Morarji Desai National Institute of Yoga (MDNIY), New Delhi